Chef and owner Arie Peisert takes a break from daily food prep and stands near the cord of wood stacked outside his new Standish-Ericsson restaurant, Northern Fires. Snow falls as nearby cars push through the slush on 42nd Street. In spite of the cold, Peisert is in shorts, a t-shirt, and a long black apron. He looks right at home.
After all, until now it's just this kind of weather in which he and his staff often had to operate. He said, "For six years we've been making pizza in snow, 30 degree weather, 100 degree weather, wind, rain, humidity. We've seen it all." This winter, however, they'll serve customers from within the comfortable confines of their new home.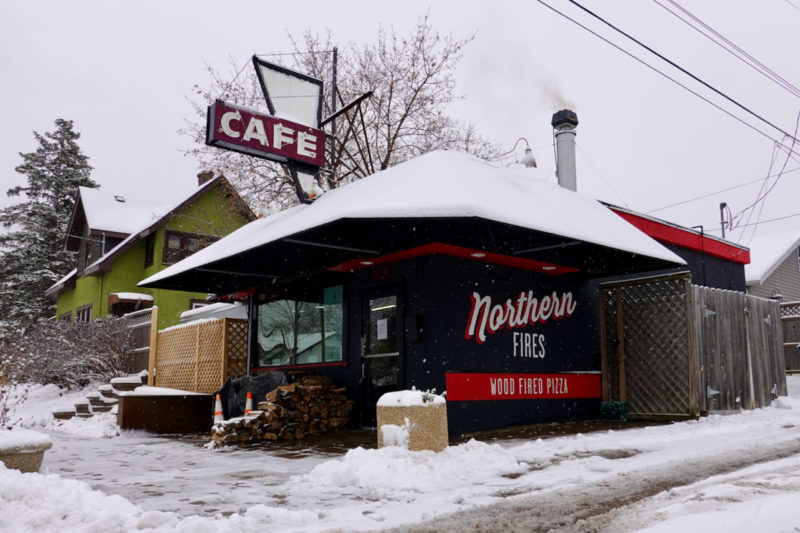 Northern Fires' new home in the Standish-Ericsson neighborhood.
The new restaurant opened just over a week ago and Peisert says it's gone well. "It seemed like the whole neighborhood showed up last week", he said. "We did over 100 pizzas a night." Peisert is thankful for the dedication his seasonal employees showed over the years. His goal was always to create good jobs in the food industry, and transitioning to this permanent location allows him to do that. He came from a union household. "My mom was always fighting for nurses to have fair wages and time off and better work situations", he said. "I'm grateful to stay busy, stay active, during this winter. And, help create some jobs for other people".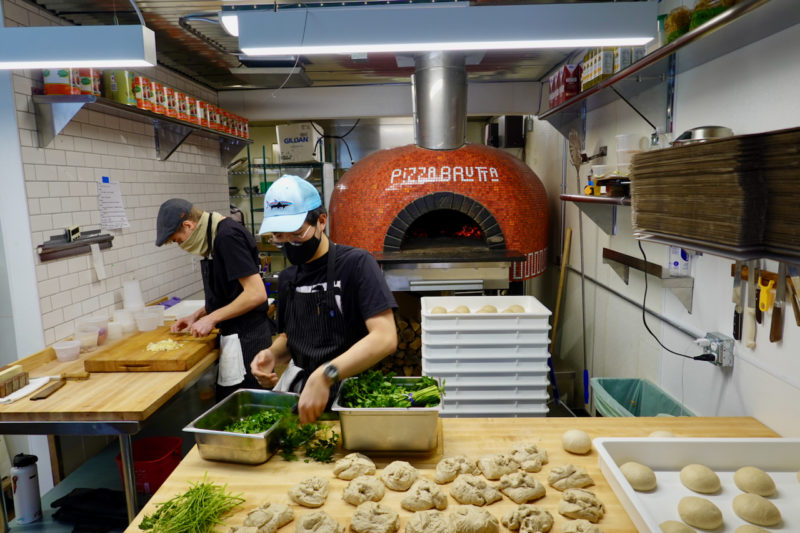 The Northern Fires staff preps for service inside their new shop.
Peisert says his creative guideposts are, "Keeping things simple, keeping things seasonal, keeping things local." His relationship with his suppliers is such that he'll say, "Tell me what you got and I'll make a pizza out of it." For example, Clover Bee Farm has been bringing in potatoes, leeks, carrots, parsnips, and
some amazing Asian salad mix with bok choy and mizuna. So, that day he was making a delicious potato leek pizza. Some of Peisert's other local suppliers include Cosmic Wheel Creamery in Clear Lake, WI, and Baker's Field Flour & Bread in Northeast Minneapolis. About his suppliers he says, "Their products are great. They're people I've known for five or six years now, and I know their families, and I really enjoy working with them and supporting them."
His Food Journey
Peisert says, "The way I was taught cooking was kind of 'the hard way is the best way'." He says his mother and grandmother were both great cooks who cooked from scratch, and they encouraged his creativity around food. "I could make what I wanted for dinner, I just had to find a recipe and then we'd
execute the recipe. Cooking from scratch and not dealing with preserved, overly processed stuff, is something I've always done since I was a kid.", he said.
Northern Fires ferments their sourdough crust for 48 hours. Peisert says one advantage of the long sourdough fermentation plus the high-temperature wood fire cooking method is the resulting beautiful char. "It creates a lot of our black and white spotting around the outside which I visually think is really pretty.", he said.

Peisert honed his skills in culinary school in San Francisco, CA, and then in an Italian restaurant in Oakland. "All my chefs came from Chez Panisse in Berkeley which was the original farm to table restaurant. I was in the right place at the right time, learning from the right people," he said. From there he joined family in Minnesota and served as sous-chef at The Bachelor Farmer in Minneapolis. He bought a mobile oven in 2015 and started with private parties. From there, he grew by word of mouth and made a successful bid to join the Mill City Farmers Market, and others. Peisert says he did 200 events in 2019.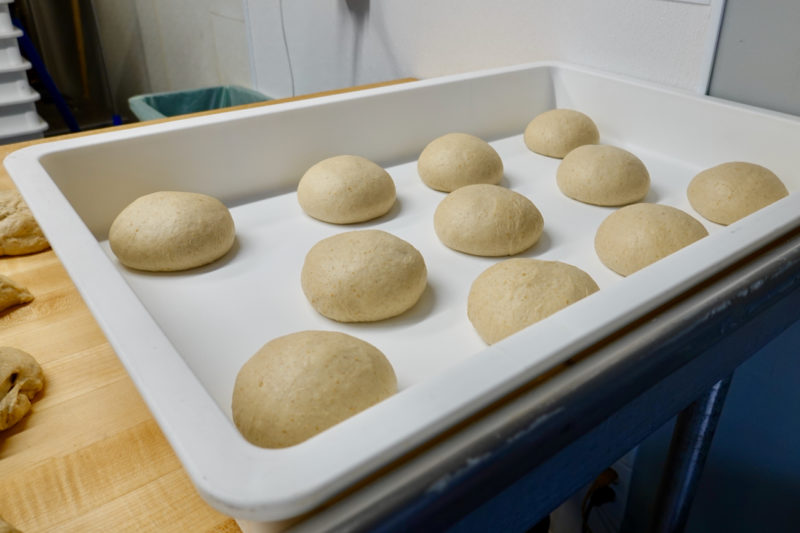 Sourdough ready to go.
Looking Forward
Like many in the service industry right now, Peisert is mindful of the challenges ahead. He plans to stay nimble and says he's, "Trying to rethink what the food industry is going to be going forward, and what the neighborhood wants out of us, and how we can keep making food that we're proud of." He believes his new model should work well in these times. He's enjoyed people ordering their pizza from home, and then stopping by in their pajamas to pick it up as it comes out of the oven. While Peisert stood outside, a woman walked by with her dog. "How was the pizza the other night?", Peisert asked. "So good!", she responded.
Though it's only been open a week, Northern Fires already seems right at home in the neighborhood.