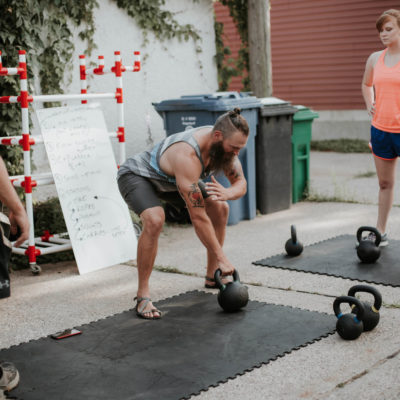 building community through health & wellness and the importance of strength and resilience in meeting the challenges of living in our current environment. 
Last week, on a chilly late October afternoon, I had the absolute pleasure of sitting down and talking with Ben Swarts, founder of Frost Iron Training – the newest gym in the neighborhood.
We sat outside in the sun and chatted. Ben told me about how he sees his space as an opportunity to build community through health & wellness. He also talked to me about the importance of strength and resilience in meeting the challenges of living in our current environment.
"We all know about how physical activity, sleep, nutrition and stress reduction contribute to wellness, but we forget to talk about how important purpose, play, and community are to the equation."

                            Ben Swarts, Hardshell Fitness, LLC
Until he opened this space, Ben had been offering fitness classes out of his home, or more accurately, his garage. Though it was not the biggest space, these "garage sessions" helped him grow a healthy – pun intended – following. Limited space in the garage meant that Ben held classes outside year round, and with the new space, he was really excited to offer his community an opportunity to train indoors for a change. However, they still wanted to train in the elements. Fortunately for everyone the new building with has these large overhead doors which turn out to create this perfect space for indoor and outdoor training. This new gym space is where the old A-1 Tree Service used to be, on the corner of 38th St. and Longfellow Ave in the Standish Neighborhood. Frost Iron plans to continue providing outdoor fitness training throughout the winter.
The chief disciplines at the gym are kettlebells and weight lifting, but don't let that scare you. It is not all about building big muscles. He helps his members to build confidence, strength, balance, and mobility. He is not pushing diet regimes or cookie cutter results.
Ben meets you where you are and helps you to achieve your goals and not some industry standard of fitness. As he says "it's all about empathy, resilience and community."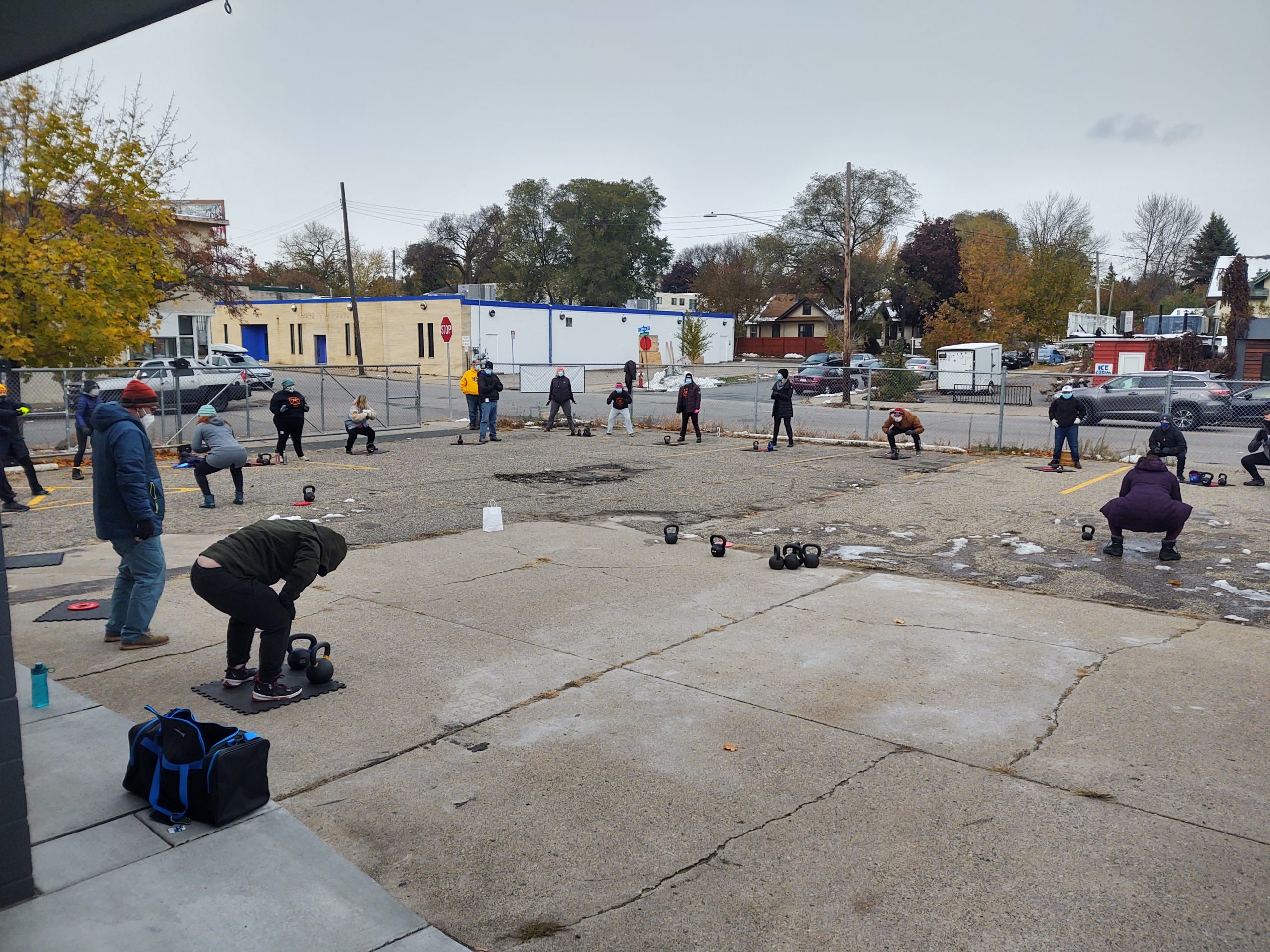 He is committed to making sure Frost Iron is a place for everyone and every "body". Regardless of your current state of fitness or ability, he welcomes you to begin a strength and resilience journey. Importantly for Ben, it's also an opportunity to become part of a community committed to supporting each other. Best part is: he doesn't just talk-the-talk.
Thrive Mighty is a non-profit Ben started that stems from his professional experience in the disability services field. The values of ability first, inclusion and personal power are at the center of their work building a community of people around wellness that welcomes all. Thrive Mighty encourages individuals to showcase their personal power. Clients first focus on discovering their abilities through social gatherings, then developing those abilities through more group activities, and educational opportunities. "We rely on our events' Ben says, "and pictures, etc. for folks to understand it's for people of all abilities, backgrounds, as we want our actions to tell the story." While Covid has created some obstacles to Thrive Mighty's work, there are still opportunities to be involved. Check it out at https://www.thrivemighty.org.
You can become a member of Frost Iron for as little as $80 a month. That comes with two fitness classes a week. Some of his members pay extra to provide opportunities for others who may not be able to afford it.
This is not your typical fitness industry experience. Ben is building a tight knit community of people who want to feel better and do better.
Frost Iron Training is located on the corner of 38th St. and Longfellow Ave. in the Standish neighorhood.
For more information visit Ben's website:https://www.hardshellfit.com/. Or, send him an email at hardshellben@gmail.com with any questions, or to be put on his email list for future opportunities.