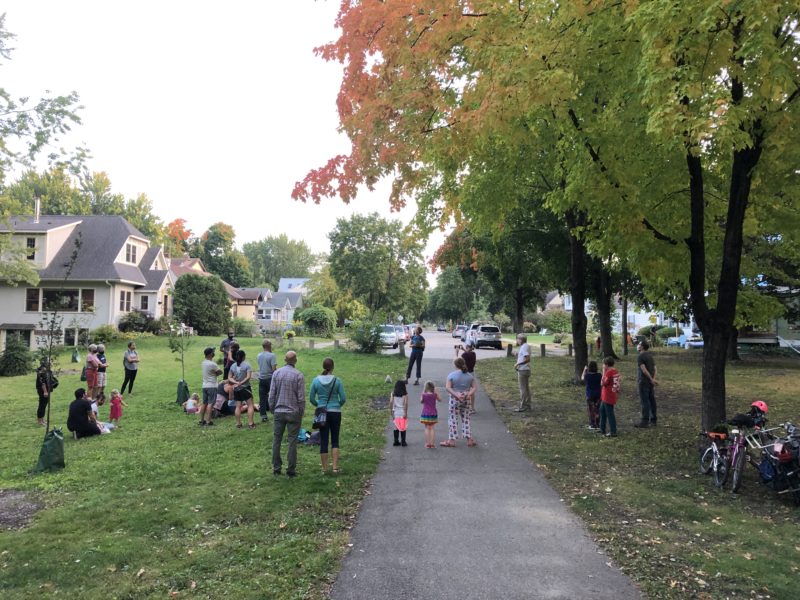 WATER TABLE:
A creek-based curriculum for the community
By Ryan Seibold
Water Table is an art project about water and community. 
I am one of 12 artists working with Freshwater's (freshwater.org) inaugural "Art for Water" initiative and cohort of artists in partnership with Hennepin County. This program provided resources to artists to learn about and understand stewardship and conservation of water, similar to the water stewardship trainings but geared to artists. I initially had a site picked out to build a pond and develop a K-12 summer program centered on this microcosm of an ecosystem. The name Water Table is derived from the toy that children play with and the physical water table beneath our feet and at lakes, streams, ponds and rivers. The pond would have been a space for play and learning.
The pandemic changed the natural course of this idea however (and for everyone!). With this sudden change, I adjusted my sights to the neighborhood. I started thinking about Minnehaha Creek and how it was the center of action for so many communities – humans, plants and animals.  At the time I didn't know that I would be moving to a new neighborhood, a small hop from Standish to Ericsson. I now live a convenient two blocks away from the creek. I am very happy to connect with the creek almost daily and appreciate this proximity to nature immensely. After a long day on the screens a stroll along the stream is revitalizing and healing.
For Water Table I envisioned having social outings at the creek on Friday evenings. I had heard from a friend about a jamboree where musicians gathered at the creek with their friends and families and played in the open air while folks had picnics and listened along. It is with this spirit that I would like to mix social/play with art + activism. It is our great responsibility to save and protect our water. My goal with Water Table is to bring a little wild into our knowledge banks, protect what wild is already at the creek, and have fun while doing it. 
At each event I seek feedback and ideas from the community and work to activate those ideas. For me, it goes back to the idea of play and the ways that knowledge is exchanged through play. At the first Water Table event I organized I watched kids from various parts of the neighborhood find each other and immediately start playing. Out in nature with sticks and big trees arching over them. Minnehaha Creek is a wonderful setting to experience a stream ecosystem at play with our city. Water Table is open to all regardless of ethnic origin, race, color, sex, sexual orientation, age or physical ability. The next event is tentatively set for either Friday, October 16 or 23 at 6pm. We may explore some areas upstream from the usual spot. Plans are being worked out, so updates/details are forthcoming. 
Email Ryan Seibold with questions at: environmentalimpactstudio@gmail.com